THE EVOLUTION | OF APPLIED AUTOMATION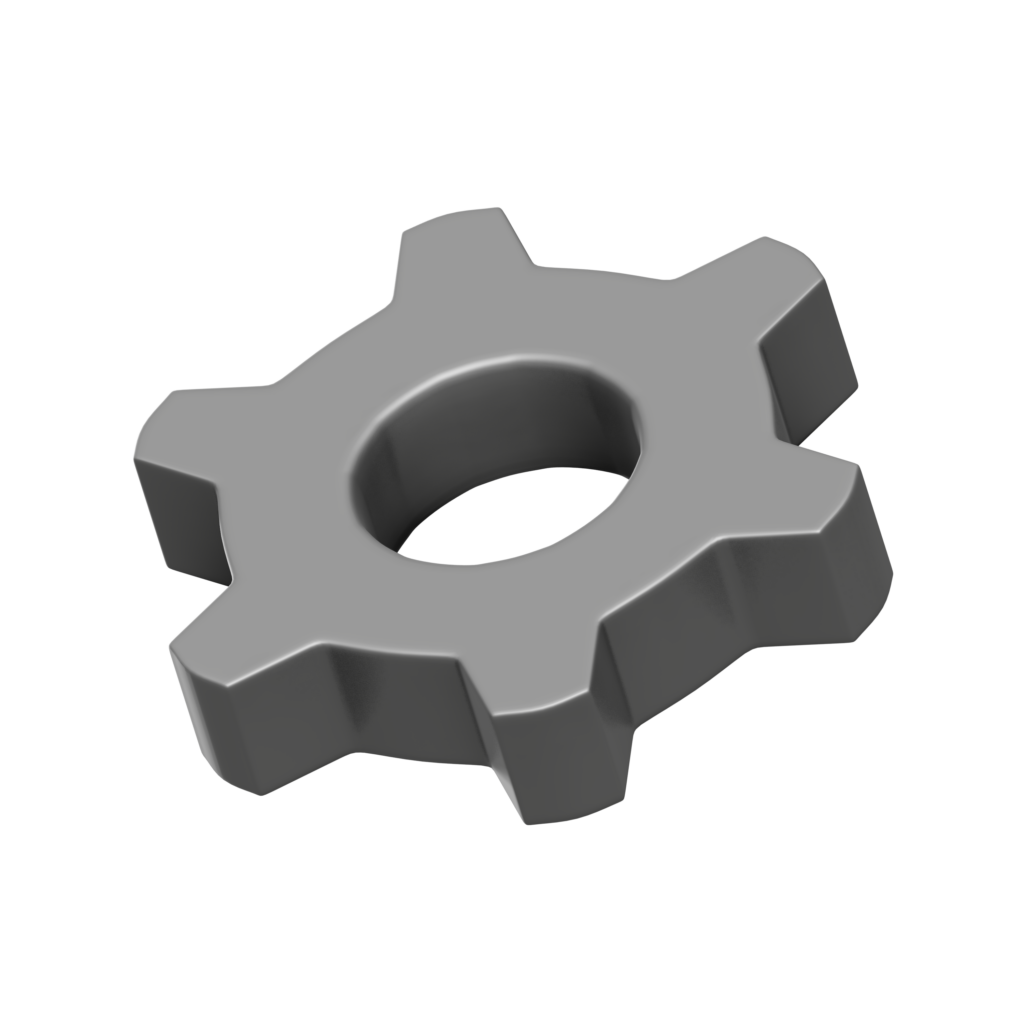 Efficiency is important. Always has been… always will be. The recent pandemic illustrated how fragile the US labor market is and many small to midsize businesses were quickly overwhelmed with day to day operational tasks. "Why not hire more people?" one might ask. The reality is that many small to mid size businesses tried, though with little to no success. Combine the sustained labor shortage with the rapid normalization of "anti work / anti productivity" contemporary culture and what you end up with is a recipe for disaster. Now for the good news:
You can leverage the advances in accessible automation to insulate your business the same way enterprise level companies do… and for a lot less than you probably imagine.
HOW LONG DO AUTOMATIONS TAKE TO BUILD?
Not as long as most people seem think. Thanks to a truly wide selection of readily accessible platforms such as those listed at the top of this page, specific automations can often be developed in days rather than weeks or months. Depending upon the amount of "universally developed-for" systems [such as Gmail, Microsoft365, QuickBooks, SalesForce, etc] vs proprietary software [fleet / livery dispatch software, industry specific CRM, medical / healthcare systems] we are typically able to complete automation instances in 7 to 14 days. Please note this time frame includes adjustments and refinements which are often the result of the development process itself. Additional time may be required to integrate any previously developed custom / one off software solutions. 
WHICH SYSTEM IS BEST FOR ME AND MY BUSINESS?
The short answer: Depends on which existing infrastructure your business already has in place. Thankfully the Evolution Technology | Systems development team has extensive experience with nearly all of the most popular options. This means we can determine which system / platform / option is best for your business and select the correct platform based on those parameters resulting in shorter build times / more effective applications.  While we try to keep each build to one platform, there are occasionally instances where more than one system in "hybrid form" is the most efficient option. We cover all this and more during the analysis and conceptualization phase of any automation build. Most importantly, in each and every case we make significant effort to work with / around existing infrastructure to minimize any interruptions to productivity / business continuity. 
WHAT TASKS CAN I AUTOMATE?
At this point system, business, and work flow automation is typically limited only by two things: Budget and imagination. Fortunately as more platforms become accessible to reduce lead time, the former isn't much of an issue for nearly all businesses. That leaves "imagination". We would quickly run out of space on this entire page if we tried to describe every possible situation where the application of automation is possible. From the simple mailing of a thank you after a purchase is made on a website to complex multi level integrations featuring social media, logistics, sales, and accounting…we very rarely encounter where a desired workflow is simply not possible. You know your business' workflow far better than we do so ultimately you get to be the one to tell us how we can help!
WHAT ARE THE COSTS ASSOCIATED WITH AUTOMATION?
Like the time to move from concept to a working system, the answer is: probably not as much as most people think. Simple automations can be in the several hundreds of dollars range with costs increasing in proportion with complexity of system. As with all tech projects, due to the sheer number of variables, we encourage you to make use of the contact form on this page to get an estimate at no cost.  We will also point out that in our experience, the number one reason more entrepreneurs and business owners do not consider any form of automation is "perception of cost". This is a stigma left over from the days when the ONLY option for business process automations were complex, custom build / hard coded applications that required months or even years to develop.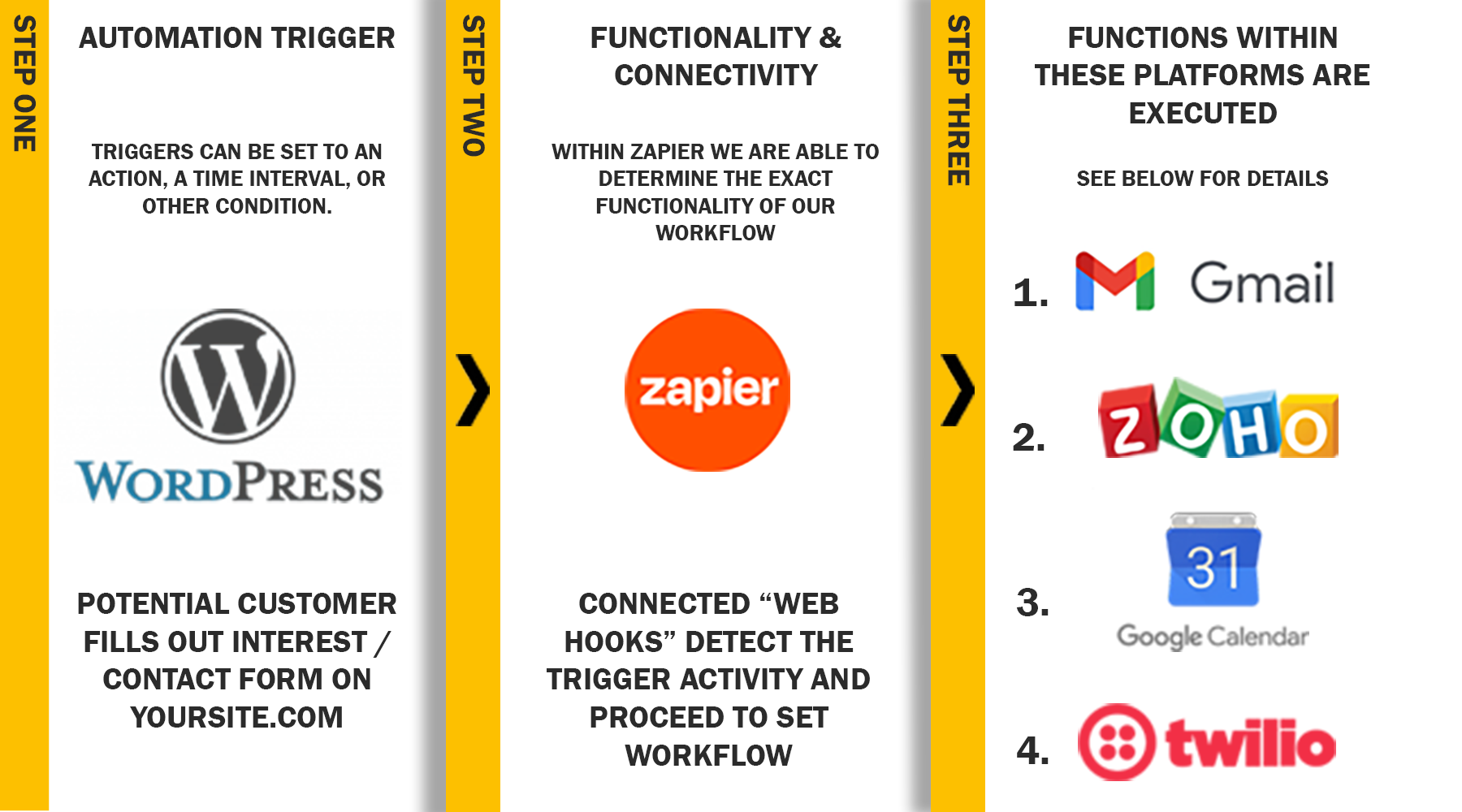 ESTIMATED TIME SAVED: 30-45 MINS PER RUN
ESTIMATED TIME TO IMPLEMENT: 2-5 DAYS
ESTIMATED COST TO IMPLEMENT: $400-$600
USE CASE: HOW DOES IT WORK? WHAT DOES IT DO?
In this "new customer contact" example, we illustrate how by using Zapier, a popular business software automation platform, we can complete several business critical tasks simultaneously. These are tasks that would take either you or office staff anywhere between 30 to 45 minutes to do presuming that was the only task at hand.